Christmas Blog Blurb for Orvalle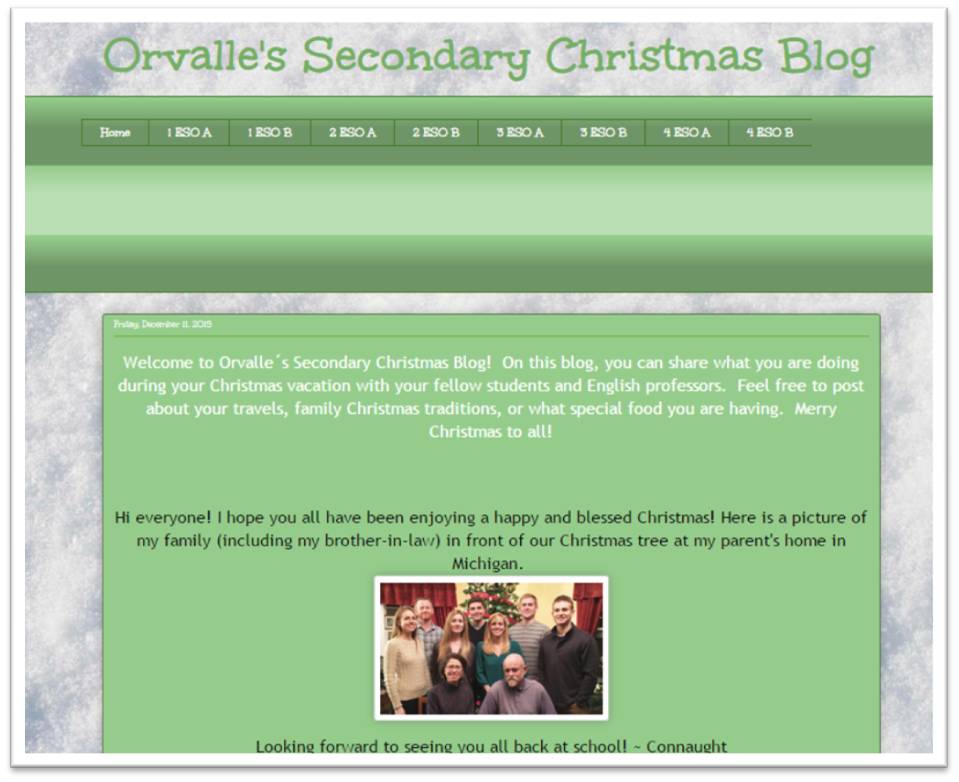 For the three weeks of winter break this year, a blog was created so that each grade of ESO could post about their holidays! Each grade had separate pages to share their entries. There were three different pages and topics that girls could post about: Christmas Greetings, Family Traditions, and Festive Foods. The
blog
was designed so that every student could see the posts from her classmates, as well as navigate through the blog to see the posts from other grades. In addition to sharing messages, girls could post pictures or web links as well!
The Christmas Greetings page was a place where the girls could write to each other about joyful gatherings with family and friends, wishes for a fruitful Feast of the Three Kings, or with words of encouragement for each other about the year ahead in 2016. On the Family Traditions page, girls posted about the unique ways that each of their families celebrate certain holidays, with different games, parties, and gift-giving. No holiday season would be complete without eating delicious foods though, which made the Festive Foods page a fun place for girls to share their favorite recipes for holiday foods, in particular, desserts!
The blog was very interactive, with teachers and assistants posting responses to the girls' messages and even posting their own messages and pictures! Both the staff and the students enjoyed being able to keep up with each other while away from school for the holidays - it was a beautiful way to share all the joys and blessings of the Christmas season with one another!