A very special winter (Kindergarden)
A very special winter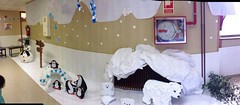 Suddenly bears, penguins, seals, and a snowman appeared at school! Therefore, the teachers have been teaching us about winter.
They told us that there are two kinds of trees; deciduous and evergreen. We also discovered that animals don't experience winter the same way. Some of them can be found in the forest while others remain sleeping in their caves the whole season. This is called hibernation.
We learnt that different meteorological changes take place too. The sun can come out during winter but it's still freezing! It also rains and snows. That's when we take our boots and umbrellas out!
To show everything we learnt, we made winter decorations for our hall using recycled materials like cups, soft-drink bottles, cd's, and tissues. It's the best way to internalize our knowledge on winter in a fun manner.