Introducing our new language assistants! – Catherine Ransford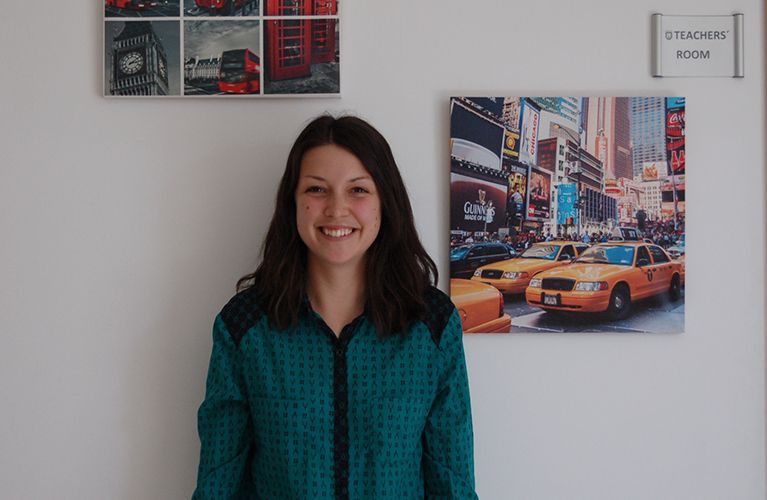 Hi! My name is Catherine Ransford and I'm from Warwick, which is a town right in the centre of the UK. There's a big castle in Warwick and it's not far from Stratford-upon-Avon where Shakespeare was born, so it's a nice area of the country to visit if you ever get a chance.
I studied French at Leeds University and love learning languages, so I have lived in Montpellier in the South of France and worked in French ski resorts since graduating four years ago. I am someone who loves the outdoors and doing things like skiing and hiking, so living in the mountains was perfect for me!
I decided to come to Spain to learn Spanish and see what it's like to work in a school, as working with young people is what really motivates me. Perhaps this makes me bit strange but I also love grammar, so helping the girls at Orvalle improve their English grammar is like a dream job for me! It is fascinating to learn about the girls' lives and to see what their opinions are about the subjects they are studying – I think they will be teaching me just as much as I am teaching them!
So far I am absolutely loving the Spanish culture and way of life – everyone has been so welcoming and the food is incredible. I am very lucky to be living with a lovely host family from the school, and they have helped me try lots of new things already! The weather is also of course far better than that of rainy England, so at the weekends I intend to make the most of it by exploring Madrid and the rest of Spain.
I am really excited about the opportunity to spend the rest of the academic year at Orvalle with the girls, and I look forward to getting to know everyone.