Multicultural Day 2015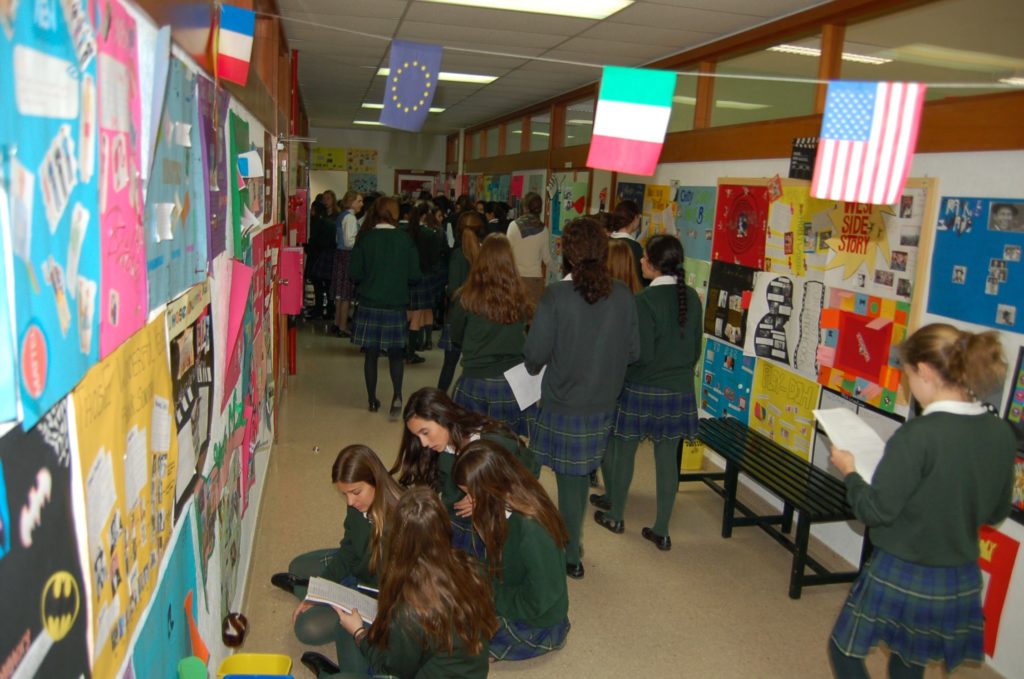 Students and staff celebrated ´Multicultural Day´ in style on the 26th of March 2015.
Our preschool students right up to third of primary played their part by dressing up as cowboys and cowgirls, and there were definitely a few lads and lassies in attendance as well.
From start to finish,students in Primary II had a whole host of activities to keep them busy. Their central theme was 'The Sound of Music´, and boy, did they do the film justice! In the lead up to Multicultural Day, our sixth graders wasted no time in putting together PowerPoint presentations on the life of the real Van Trapp family, and how the events of World War II impacted them and the world at large at that time.While our 6th grade girls were busy presenting their work to their  younger peers, the classes that weren't learning about the  real Von Trapp Family were busy participating in a ´Sound of Music Quiz´. It was great to see healthy competition and teamwork displayed during the quiz.
For the past few weeks prior to Multicultural Day,our second of Primary French and German teachers, had been busy preparing French and German cultural activities with their students. In the afternoon, their students got to sing,engage in role plays and read poetry in either German or French in front of the younger years.
Following on from the above was 'The Sound of Music Musical´. Those in attendance got to hear the timeless classics of ´ My Favourite Things´,´So Long,Farewell´ and ´Do Re Mi´ sung by our 4th,5th and 6th graders respectively. What a treat that was!
Afterwards, it was time to kick things up a notch .In the next forty minutes, a ´Rock and Roll´ dance contest got underway. While the girls were dancing in pairs, two judges per class eliminated contestants until there was only one finalist left in each class.The six finalists then fought hard to survive,but in the end,the judges could only choose three pairs to take 1st, 2nd and 3rd place.
Our last Multicultural Day activity saw the the girls get  into 'Theatre Mode" as they treated us to performances from ´The Wizard of Oz´, ´The Little Mermaid´ and ´Pinocchio´ to name but a few.
It was great to see all of the students hard work pay off! Well done to all those involved!
In the run up to Multicultural Day, our students in secondary had been working really hard on creating posters and writing speeches on topics within the main theme "Those Wonderful Years". The secondary corridors were decorated from top to bottom with posters and multicultural memorabilia.
On the day the students were in for a real treat. In the morning, all students participated in a trivia quiz whereby they had to search for information on the posters. Later on it was time for dancing! Outside with Mac and Gema the girls learnt to twist to some classic songs.
However, the most excitement was to be had in the afternoon. It was show time! Orvalle's very own Academic Awards Oscar Ceremony featuring live performances. The event was divided into six different categories which reflected the time era: Films, TV series/Cartoons, Music, Scientific and Technological advances, Fashion & Art, and Games & Toys.
Shortlisted groups performed in each category and the jury in the front row voted on the winners. There were some incredible performances: dancing, singing, reenactments of films, original short plays and even catwalks! While the judges were deliberating lovely songs were performed in both French and German. To sum up great fun was had by one and all!