Spelling Bee Championship 12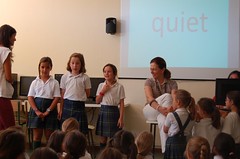 Spelling Bee Championship '12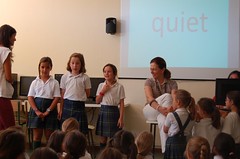 We know that children who strive to improve their literacy and spelling skills early, notice a benefit through school and beyond, which is why Orvalle launched the Spelling Bee Championship.
Orvalle released its first Spelling Bee Championship on June 22nd. The challenge was aimed to Primary pupils. It consisted of a competition where the contestants per class, one by one, were asked to spell an English word. The girl that didn't spell it right in less than 30 seconds was immediately eliminated.
The second round took place when individual top-spellers of the A and B classes had to spelled a harder word just in the same time. The final winner received a Bee prize.
The aim of The Spelling Bee Championship was to make spelling fun and to help teachers to improve the level of spelling and develop their pupils' skills.