Mini Olympic Games 12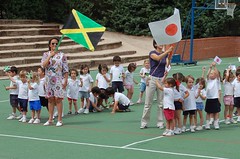 Mini Olympic Games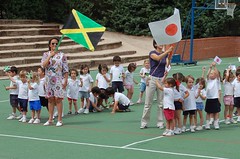 On June 8th we celebrated the first Mini Olympic games in Orvalle. After one week of preparation and decoration, the day arrived at last. It was a very special day full of excitement and competitiveness in Kindergarten.
The participating athletes came all the way from different countries; Japan, South Africa, Canada, Jamaica, Argentina, Greece, China, United Kingdom, United States, Australia, Brazil and Spain.
Our children came dressed with sport wear ready for the activities.
We started the celebration with a parade of the participating teams around the court. Then we proceeded to the lighting of the cauldron. Five children from different continents completed a relay race carrying on the Olympic torch to light the cauldron.
Along the day, children had enough time to practice different sports (100 meters race, relay race, obstacle race, shot put, long jump, high jump, basketball and football). Also, 2nd and 3rd of Kindergarten made olive-leaves crown and played Bingo.
During the closing ceremony, the participating countries paraded again into the court and we proceeded to put out the cauldron. Finally the winning teams received their medals.