Orvalle's English Day 12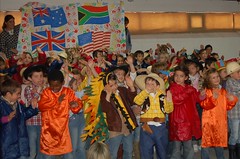 Orvalle's English Day '12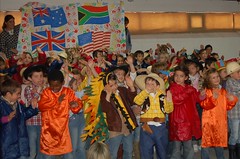 February 24th we celebrated our traditional English Day at school. After weeks of preparation the day arrived at last. What a transformation! The girls couldn't believe their eyes as they came into school and saw the entrance hall decorated with pictures and monuments of English speaking countries, colored flags hanging across the corridors and posters all over the school.
The participating countries this year have been England, USA, Australia, Canada, Scotland, Ireland, Wales and South Africa. Our children in Kindergarten came dressed up as natives from these countries, so this year we had American Indians and cowboys, English lords and ladies, Members of the Royal Guard, Scottish children, even South Africans!
http://www.youtube.com/watch?v=ZakZDHvDInA

Along the day in Kindergarten 1, the children had enough time to learn and recognize all countries. This was thanks to the Flags Memory Game, a storytelling about the capital of England, London, a video about Wild Animals from South Africa and two activities related to Arts and Crafts where they designed a colorful South African Mask and a Mobile Moose from Canada.




In Kindergarten 2 and 3, we played snakes and ladders, which is a traditional English game, a bingo with typical monuments from the participating countries, a kangaroo race, we listened to a story about South Africa, we roller skated at Rockefeller Center and we learnt how to line dance. At four o'clock the children in Kindergarten 3 performed Orvalle's original musical "Travelling around the world" where they visited USA, South Africa, Australia and England in front of their parents.
The girls in primary wore colored ribbons in their hair and hats to represent the new countries of Wales and South Africa that were being introduced this year. We even had Safari Guides among the teaching staff!!
In the morning there was a variety of activities taking place: the first years of primary played bingo, did hand crafts, visited the exhibitions and enjoyed a great gymkhana as well. Primary 4th, 5th and 6th went on treasures hunt throughout the school looking for information to complete their activity worksheets, they also performed presentations about the English speaking countries and saw typical movies .
The students and teachers had worked hard getting information about the new countries: the informative posters ranged from famous people, music, the geography, the food and drink to famous monuments and historic facts of Wales and South Africa.




The secondary girls, besides the treasure hunts activity, they also made presentations in the digital board, dances, quizzes, questions about English culture and the interesting school tour answering trivial questions about the Anglo-Saxons countries.




The lunch was also related to this special day; We had pizza, fish fingers with fries and onion rings! We also enjoyed the snack time with cookies and milk! It was delicious!

It was a very exciting day!

{oziogallery 259}